Gift Cards for American Made Jeans, Workwear, Overalls, Aprons and Everything Else! (Gift Certificates)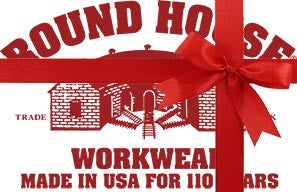 Give the gift of American Made jeans, workwear and aprons with Round House Gift Cards (also called Gift Certificates).
Not sure what size they wear? Get a Round House gift card and let them choose their Made in USA jeans for themselves.
Gift cards are electronic only (not physical) and delivered by email. Can be redeemed at checkout in one simple step.
Round House gift cards have no additional processing fees and never expire.